Full Moon April 2022 Astrology
Welcome to the Libra Full Moon! This Full Moon is in the air sign of Libra, appearing in the night sky on the 16th of April. Go forth and prosper – knowing the destination of your dreams!
Belief in the influence of the full moon on human beings' emotional state is ancient and covers every corner of the globe. From the beginning of Homo sapiens' life on Earth, man has been aware of the Moon.
The full moon occurs when the whole side of the moon faces the earth and is illuminated by the sun's rays. Did you know that the moon produces no visible light of its own? The latter is a display of a symbiotic existence.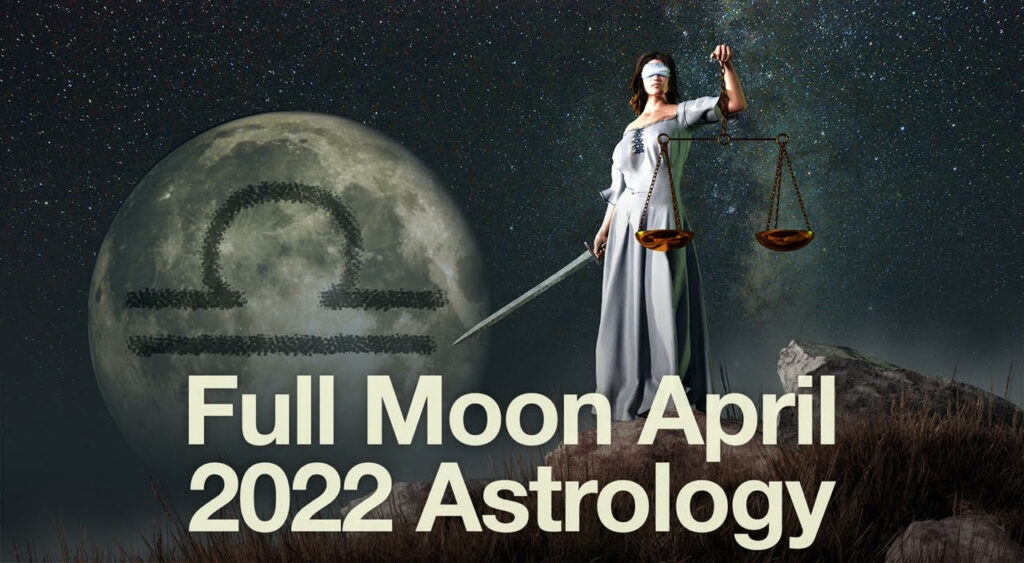 The Moon and Sun
The moon is known as what we call the "divine feminine" and the Sun is known as the "divine masculine." It is noted within the "First Nation" Medicine Wheel teachings of Grandmother Moon and Father Sun.
It can also be shown in perfect harmony in the symbol of the Yin-Yang, which displays perfect duality (sun, moon, light, dark etc).
The Moon and Sun are the only true constant in any being's life or life cycle. So, they are revered and feared equally by many cultures.
Full Moon Magic
Power is always a double-ended sword. Lunar Cycles at the position of the full moon can bring out the best and the worst in people. (Ask anyone in the emergency services, they know what the full moon can bring out).
As well, it is important not to make any serious life-changing decisions at the time of a full moon, bearing in mind the energy is two days on either side.
In fact, it is best to be aware that your emotions may well be pulled like the water in the tides. Women are often affected by the full moon's energy, as it has an impact on their moon cycle (menstrual cycle) and libido.
Moreover old Moon magic of the ancient ways originate from the wisdom of people that was essential for their survival. Especially when seeds were planted at the time of a new moon, sown under the cover of night.
Ultimately, it turned out that none were stolen or disturbed. In contrast, the full moon allowed the maintenance or harvest to be done well into the dusk.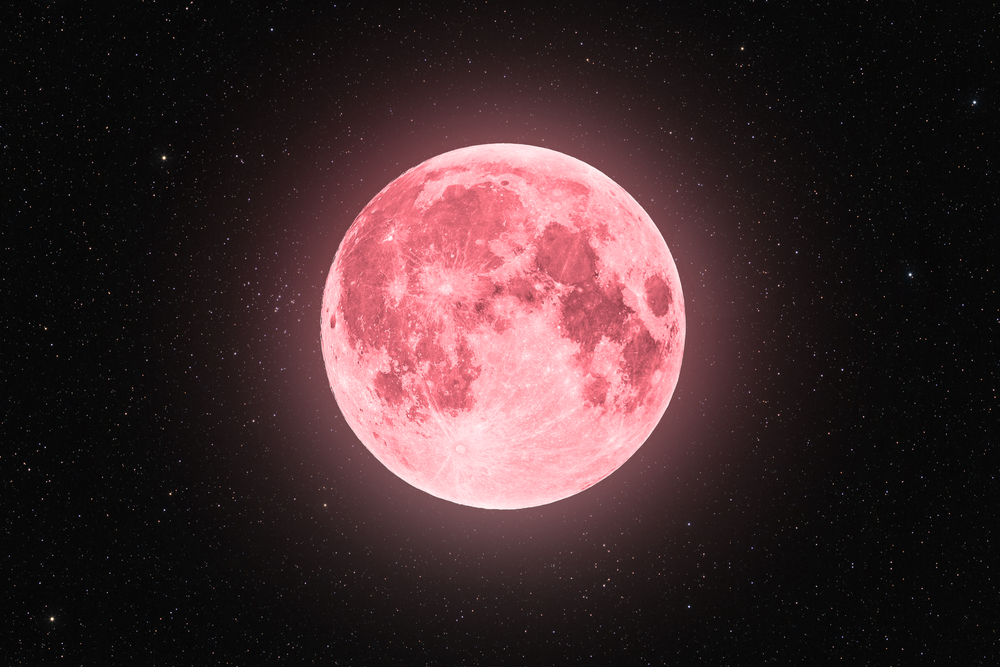 A
Pink

Moon

It is named after the Cherry Blossom on the tree, which shows up now the days are longer and brighter. As a matter of fact, the "First Nation" people also call it the "Egg Moon" and the "Hare Moon."

The Cherry Blossom, Egg and Hare are all symbolic of Spring as a season as well as renewal and fertility. This moon also precedes Easter, another connection to eggs but of the chocolate variety!
Full Moon Magic
Go for a walk on a lovely spring day. Find some pink flowers, you do not require many, just a few. Remember before you pick the flowers to first ask permission from the "Nature Spirits."
If the feeling is yes, no feeling of resistance, take them home with you. Next place them into a vase, jar or on a plate with some water on the windowsill (where the moon will beam in brightly.)
In the evening meditate contemplating the journey this flower has had from seed to blossom. In fact, being open-minded as you imagine this journey, ask for insight into your dreams of how your life is going to develop.
Love Spell
The Goddess associated with the Full Moon in Libra is Aphrodite. She is the beautiful and mystical Goddess of Love. Take any apple and carve your initials then carve a most beautiful and gentle heart around them.
The carving should be done by taking your time, taking care, and paying attention to what you are doing. Once you have done this, recite these words:
Aphrodite my request on this Libra Pink Full Moon tonight.
With your incredible magic, bring my true love to me, towards my sight.
Allow me to let go of the energy; that has been wrong for me and welcome in what is right.
I honour you. I honour the moon and I honour myself. With sincere gratitude, love, and light.
(If you do desire a spicier union; you can always rub a little bit of cinnamon into the heart of the apple.)
Then you need to take the apple to your mouth and savour each bite. Ultimately, take your time for there is no need to hurry. As well as aligning with our desire for love.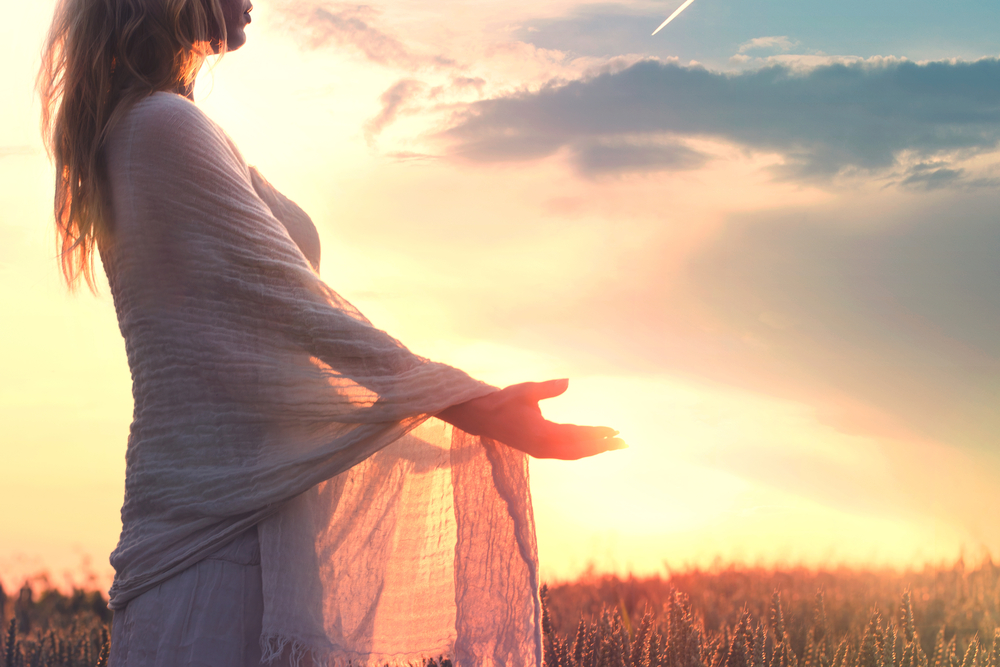 Spring Clean
Spring is a time to clean, out with the old and in with the new, as well as to reassess where your life is going. Are you truly living for yourself?
Or are you living the life path that you have fallen into? If the latter is true, now is the time to make a change. In fact, sometimes it can seem like a season of confusion, but instead, see it as a crossroads.
Ancestors Spell
This is a fantastic time to request some direction from guides and ancestors. On a piece of paper, you can write a list of questions to your, inspirers, helpers, and guides.
Roll that paper up and bind it with pink or red cotton and burn it safely, with due care and consideration. So then, under the Libra Full Moon, recite this enchantment;
Under this Libra Pink Full Moonglow
I am ready and willing to let go.
To allow the guidance to freely flow.
From the inspirers & ancestors, my direction I will know.
Full Moon Blessings,
💚 Indigo's Oracle
*Please note, all Magic begins with Intent. It is your personal responsibility what you craft with that intent, be mind-full and believe.
Speak with Indigo's Oracle
Our very own shining star, Indigo's Oracle has an abundance of psychic knowledge and wisdom to she would love to share with you! Especially about the Libra Moon!
And if you want a psychic reading? There is absolutely no better time. Psychic visions, under this Full Moon, will enhance these like no other!
Get a Psychic Reading!
Psychic Pages prides itself on bringing you the very best psychics at the lowest possible prices. We are one of the best value psychic services available. But our low prices don't mean you get any less of a reading!
We go out of our way to find you the very best trusted psychics, gifted tarot readers, top astrologers, real spiritual healers, sympathetic counsellors, life coaches and many more.
In fact, we have a dedicated psychic manager who searches for the very best. Only the very best will do for you!
Pay By Phone
Using your UK mobile, you can call our psychics via our special mobile phone service. You can choose any one of our available psychics and connect with them this way. Simply call 86666 from your mobile phone. Calls cost £1 per minute. Over 18s only. All calls are recorded.
Using your UK Landline, you can call our premium rate telephone number and pay via your phone bill. You can choose any of our available psychics, connect and speak with them directly.
You must be over 18 to use this service. Simply call 0905 232 0011. Calls cost £1 per minute plus your network access charge. All calls are recorded. Billpayer's permission is needed.