Come Dine With Me – with Robert Lee
One of our fantastic and most flamboyant psychics, Robert Lee, was recently cooking up a treat on the ever-popular Channel 4 television gem that is Come Dine With Me!
Showing off his amazing culinary skills, proving to be just as amazing a wizard in the kitchen as well as in the psychic realm, it was the perfect showcase for him to dazzle a new audience!
In addition to his talents, he is also a popular medium at Psychic Pages. Don't forget, you can have your very own psychic medium reading with us right here!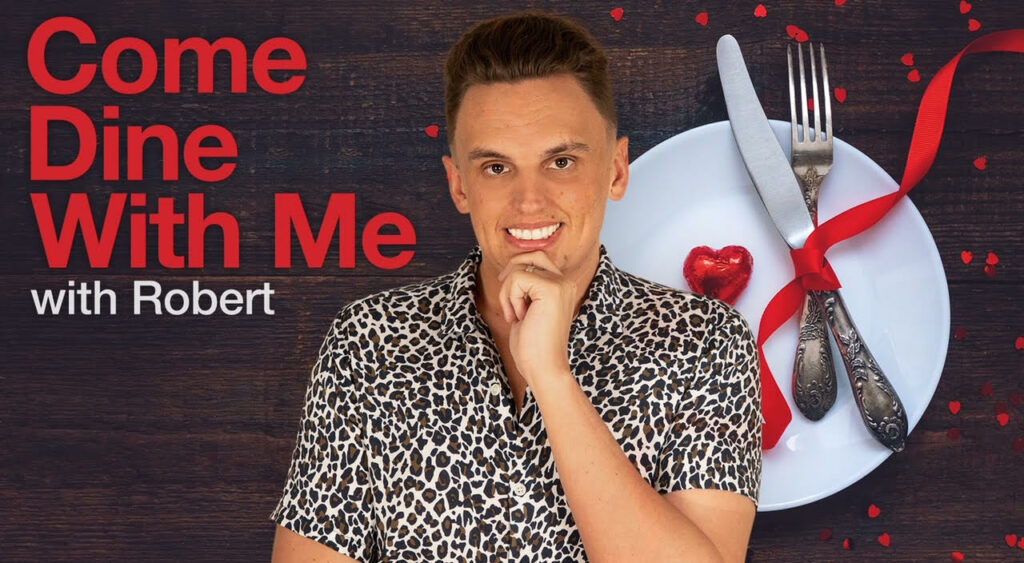 A Newspaper Exclusive!
Robert is known as "Scotland's Flamboyant Psychic". His leopard-print shirts and love of engaging people with his infectious laughter led to his being chosen for a Scottish episode of Come Dine With Me!
But, according to a recent article in the Scottish Sun, he was told to keep his psychic skills a SECRET from his dining companions! However, this was just a clever ploy by the producers!
As quoted by the newspaper, Robert said "They wanted to keep the fact I'm a psychic for later on in the week, as it's a good conversation starter. I had to downplay it a bit."
Cooking With Spirit!
When it came to cooking for his guests the Ayrshire born psychic had guidance from someone special!
Robert used his spiritual connection with his late aunt, who was a great cook on this side of life when it was time to prepare his delicious menu of slow-cooked lamb, Turkish meatballs and Eton mess!
Although he missed out on the winning prize by just one point, it was amazing to see Robert showcasing just one of his many amazing talents!
Speak to Robert Lee!
Robert is a Psychic Medium, Angel Healing Practitioner and Teacher! Robert works with people from literally all walks of life with bundles of enthusiasm and a manner that is extremely uplifting!
He uses his Psychic and Mediumship abilities, not only to prove that life is eternal but to help people realise that life is great for living and to show them the path. You can contact him right here!
Get a Psychic Reading!
Psychic Pages prides itself on bringing you the very best psychics at the lowest possible prices. We are one of the best value psychic services available. But our low prices don't mean you get any less of a reading!
We go out of our way to find you the very best trusted psychics, gifted tarot readers, top astrologers, real spiritual healers, sympathetic counsellors, life coaches and many more.
In fact, we have a dedicated psychic manager who searches for the very best. Only the very best will do for you!
Pay By Phone
Using your UK mobile, you can call our psychics via our special mobile phone service. You can choose any one of our available psychics and connect with them this way. Simply call 86666 from your mobile phone. Calls cost £1 per minute. Over 18s only. All calls are recorded.
Using your UK Landline, you can call our premium rate telephone number and pay via your phone bill. You can choose any of our available psychics, connect and speak with them directly.
You must be over 18 to use this service. Simply call 0905 232 0011. Calls cost £1 per minute plus your network access charge. All calls are recorded. Billpayer's permission is needed.