The Secrets of The Pendulum
A Pendulum can be used to answer yes/no questions. It's the most simple and quickest way to ask a question. They come in all forms, from Crystals such as Rose Quartz which mine is, hanging on the bottom of a chain.
They can also be your own homemade Pendulum, such as a necklace with a ring hanging at the bottom. Whichever makes you feel most comfortable.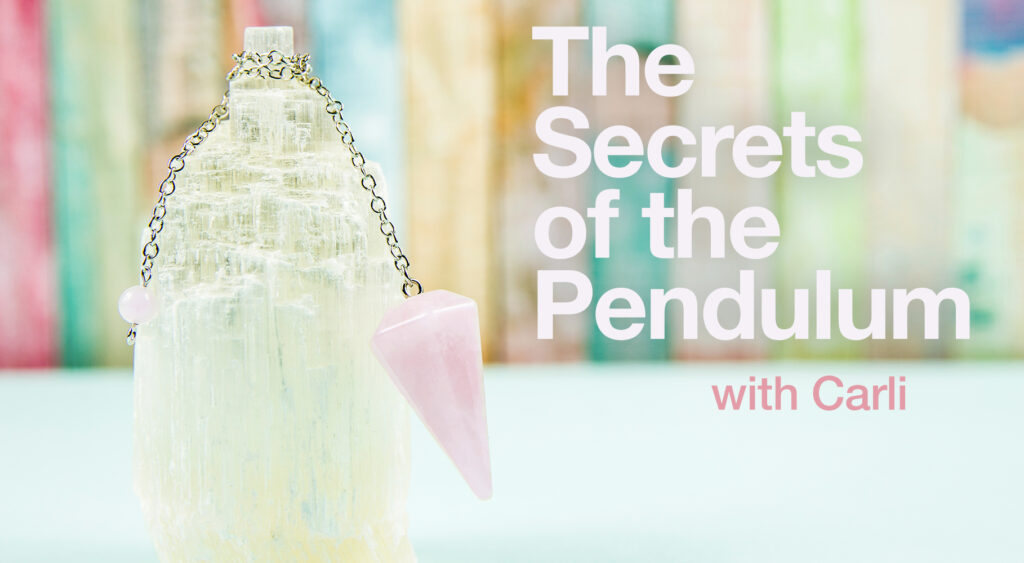 How to Use Your Pendulum
To start using the Pendulum, set your intention, what is it you want to know? Sage the room or with Selenite next to you to cleanse the energy of the room and use the items to cleanse the Pendulum too.
Quieten your mind, you can use incense and candles, but these are extra tools of ambience and not necessarily needed to perform a reading. Ideally, you want to sit up straight with both feet flat on the floor.
Grasp the pendulum's fob between your thumb and forefinger – or if you prefer, you can grasp anywhere along its chain, as long as you leave a couple of inches between your fingers and the pendulum's weight stone.
Arch your wrist slightly, steady your forearm (but not your hand) on something solid, like the edge of a table or arm of a chair. Let the pendulum just dangle. Try to hold very still, but don't worry if your handshakes a little bit.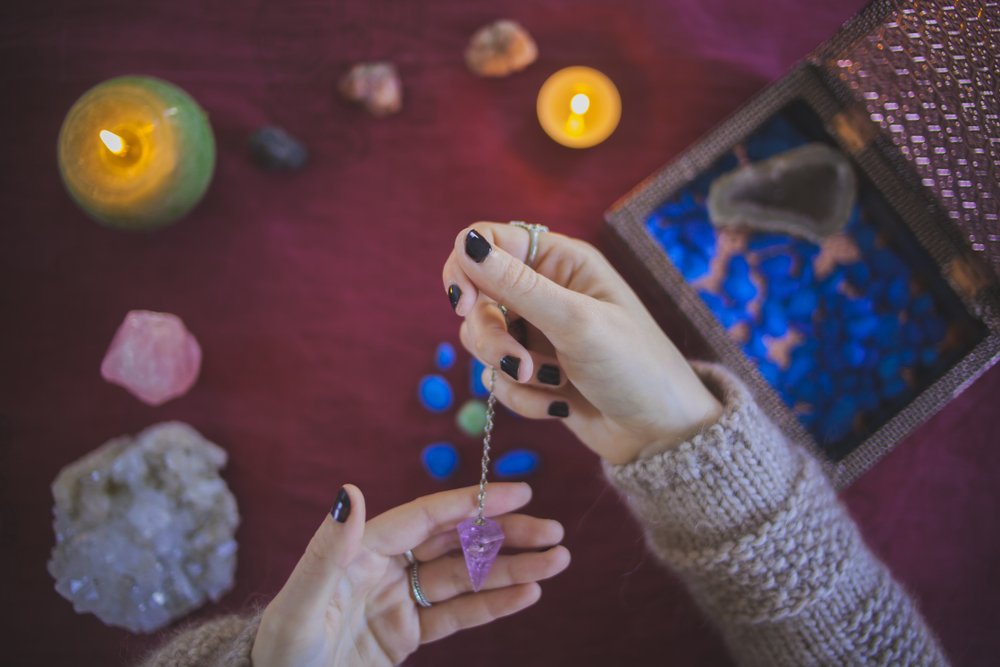 Program Your Pendulum
Program your pendulum's signals. You only need to do this step once. The purpose of programming is to establish signals for each of these answers:
– Yes
– No
– Maybe (which can also be interpreted as "I don't know" or "I don't want to say")
Here are some common, easy-to-read signals that you can choose to use:
– front to back (side to side – common for "yes")
– round in a circle (common for "no")
– stagnant (common for "not sure")
Test For Trustworthiness
To test out the trustworthiness of your programmed signals, ask a couple of test questions, such as "Is my name Sue?" Or, "Is today Monday?"
Basically, you want to verify that yes is yes and no is no. If the signals are not coming out right, go back and reprogram the pendulum. Once your signals are verified, you skip this step.
Begin each session by saying, "I call upon the higher self to answer these questions. I seek only truthful answers, which are aligned with the highest and greatest good for all concerned."
Whether you say this out loud or in your head is up to you. Do what you are comfortable with, and of course, feel free to tailor this language so it matches your own terminology.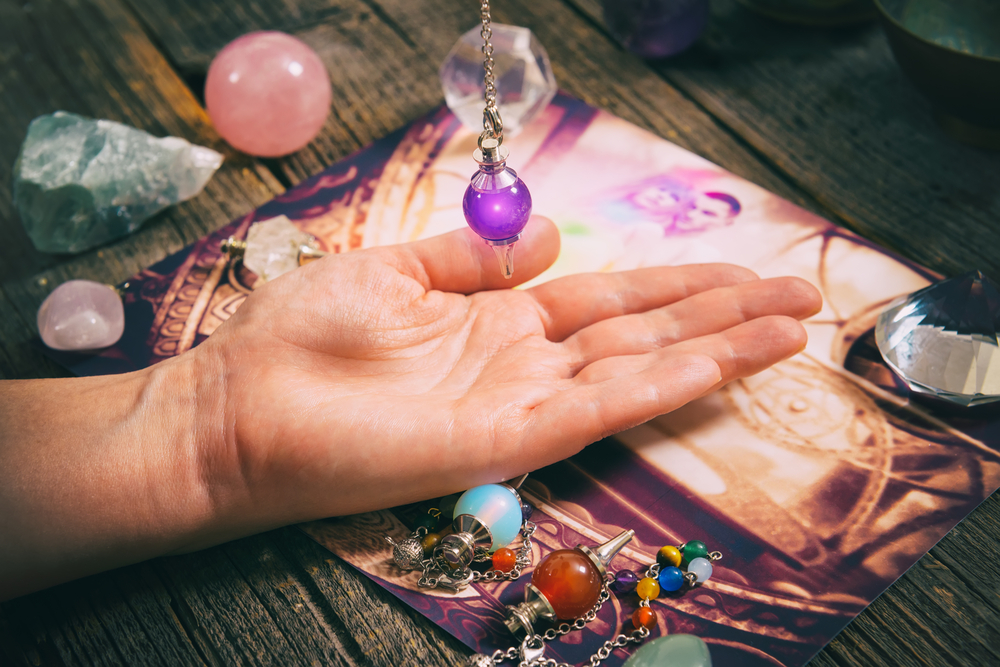 Ask Your Question
Ask questions that can be answered by YES or NO. Be as specific as you can in your phrasing. Avoid asking for opinions or using the words "should" or "supposed to" in your questions.
Wait for the answer. Be patient. Concentrate on your question (closing your eyes may help), but do not concentrate on what you think the answer should or will be.
When the pendulum swings, look at it – observe its direction. This is your answer. If it doesn't move right away, give it time, or if it's unclear what the signal is, try rephrasing the question and do it again.
When the pendulum swings with great force, it's answering loudly. If it swings with only light force, you can interpret this as a quiet, perhaps less committed response.
Protect Your Pendulum
Clear the pendulum at the end of each question by touching its weight-stone to the palm of your free hand or on another surface. This signals that your question has been answered and you are ready to move on.
Protect your pendulum when not in use. Some people wear them as a necklace and will be readily attuned to your body's energy and vibrational level. Or you can keep it in a pouch or a keepsake box.
Love and Light,
Carli xx
Speak to Carli
Carli is a Psychic Medium, Reiki Healing Practitioner and Tarot Reader! Carli's aim is to bring you guidance & insight, and help you to feel empowered! You can contact her right here!
Get a Psychic Reading!
Psychic Pages prides itself on bringing you the very best psychics at the lowest possible prices. We are one of the best value psychic services available. But our low prices don't mean you get any less of a reading!
We go out of our way to find you the very best trusted psychics, gifted tarot readers, top astrologers, real spiritual healers, sympathetic counsellors, life coaches and many more.
In fact, we have a dedicated psychic manager who searches for the very best. Only the very best will do for you!
Pay By Phone
Using your UK mobile, you can call our psychics via our special mobile phone service. You can choose any one of our available psychics and connect with them this way. Simply call 86666 from your mobile phone. Calls cost £1 per minute. Over 18s only. All calls are recorded.
Using your UK Landline, you can call our premium rate telephone number and pay via your phone bill. You can choose any of our available psychics and connect and speak with them directly.
You must be over 18 to use this service. Simply call 0905 232 0011. Calls cost £1 per minute plus your network access charge. All calls are recorded. Billpayer's permission is needed.