Total Lunar Eclipse in Scorpio – 16th May 2022
The following is an extract from NASA describing the Lunar Eclipse; During a lunar eclipse, Earth gets in the way of the Sun's light hitting the Moon.
That means that during the night, a full moon fades away as Earth's shadow covers it up. The Moon can also look reddish because Earth's atmosphere absorbs the colours while it bends some sunlight toward the Moon.
Sunlight bending through the atmosphere and absorbing other colours is also why they are orange and red. During a total lunar eclipse, the Moon is shining from all the sunrises and sunsets occurring on Earth!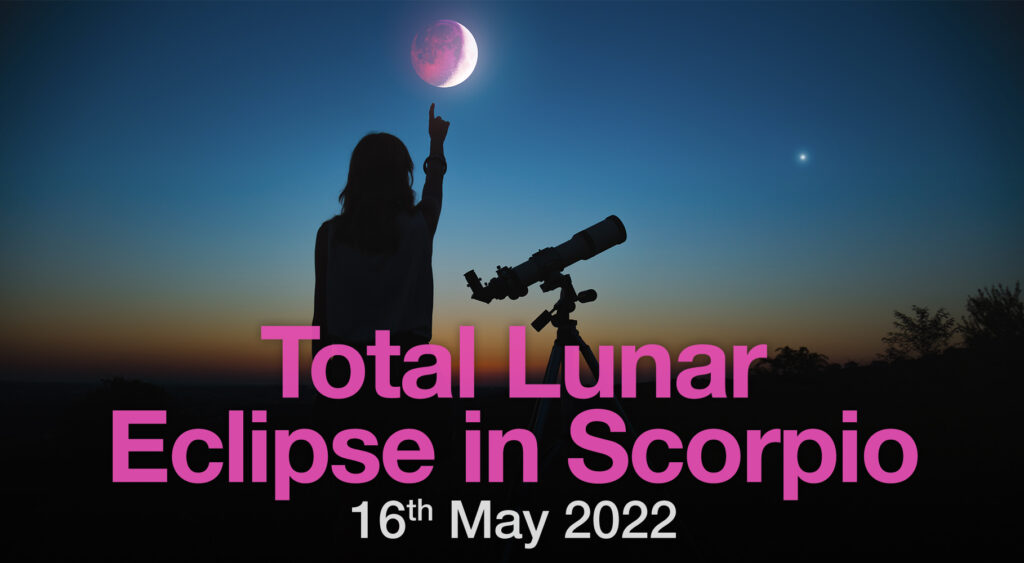 Eclipse Choices
Eclipses can bring to us an effect known as dark night of the soul when we realise that our lives are being held back by the choices we have made.  
Many cultures hold different superstitions about the Total Eclipse, some have very special events that happen during these rare occurrences. 
Scorpio is the Zodiac sign that rules Sex, Death and Transformation. It is a time to awake to your true potential, by making the drastic changes in your life that are needed. 
The three Tarot Cards that are associated with the Lunar Eclipse energy are as follows, The Magician, Death card and The Tower card.  
The Magician Manifestation Spell
The intent is the most important factor in Spellcasting.  At the time of the Eclipse, it is a powerful time to re-assess your life. 
When you are manifesting the key is to be ready to let go of old energy and invoke new energy.  The energy is held within words.  
Get a piece of paper and write on one side Under the magic of the Lunar Eclipse, I am ready and willing to let go. List all you want to release from your life.
On the other side write Under the lunar Eclipse I call into my life. List what you want to bring into your life.  
To seal the magic on the piece of paper needs to be signed and dated and very carefully burnt under the lunar eclipse. It is an incredibly powerful time for consulting, Oracles, Psychics and Witches for manifestation advice.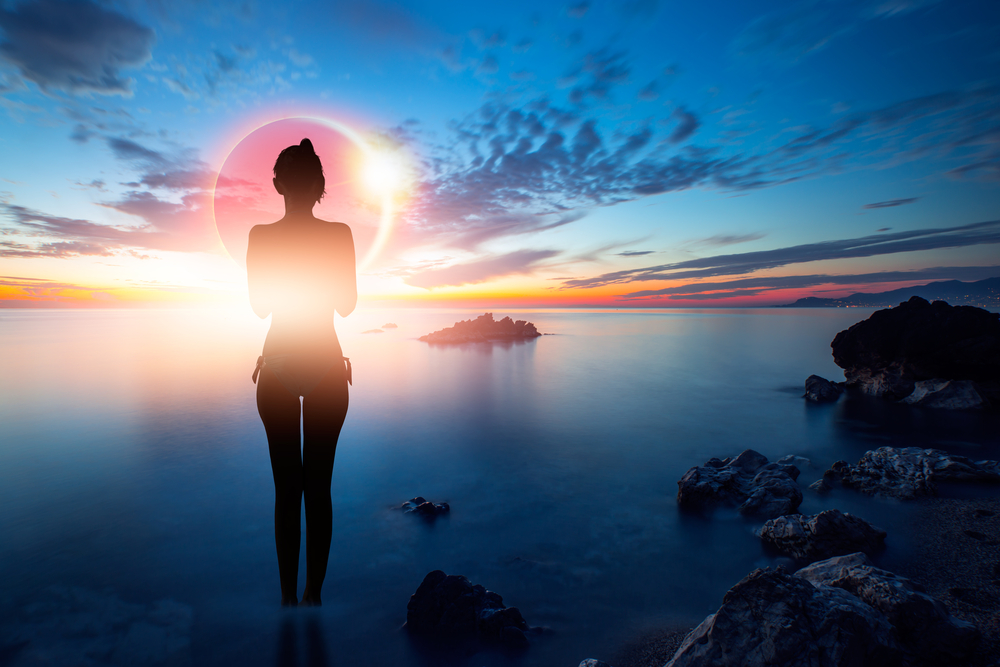 The Death Card – Spell to Embrace Change 
You may have heard the wise words "a change is as good as a rest" So many people struggle with the concept of change, but on the other side of change is always reward. 
READ this in your head or out loud for 7 days:
"To make life easier, accept the winds of change, 
As change is an energy that is inevitable  
Change is an essential element of growth  
As without the blend of energy, not one thing will grow 
Remember Rain & Sun creates a glorious rainbow" 🌈
*Hold within the mind an image of a beautiful rainbow, or hold an image of one* 
Tower Moment Spell
This is a time to request some direction from guides and ancestors. It may feel a bit daunting like something is about to happen that you don't quite fathom.
On a piece of paper, you can write a list of questions to your, inspirers, helpers, and guides. Remember to start with a please and end with a thank you. Sign and date to seal the magic. Place the paper under your pillow. 
"Under this Magical Eclipse tonight  
I look to have clear insight 
I will allow your guidance to freely flow 
Thank you for letting me know." 
★ The next dreams, you have will reveal the answers you seek! 
Remember if you need help interpreting your dreams, there are many Oracles, Psychics and Witches that can aid you, including myself. 
Full Moon blessings,
❤ Indigo 
*Please note all Magic begins with Intent. It is your personal responsibility what you craft with that intent, be mindful and believe.
Speak with Indigo
Our very own shining star, Indigo's Oracle has an abundance of psychic knowledge and wisdom to she would love to share with you! Especially about the Full Moon!
And if you want a psychic reading? There is absolutely no better time. Psychic visions, under this Full Moon, will enhance these like no other!
Get a Psychic Reading!
Psychic Pages prides itself on bringing you the very best psychics at the lowest possible prices. We are one of the best value psychic services available. But our low prices don't mean you get any less of a reading!
We go out of our way to find you the very best trusted psychics, gifted tarot readers, top astrologers, real spiritual healers, sympathetic counsellors, life coaches and many more.
In fact, we have a dedicated psychic manager who searches for the very best. Only the very best will do for you!
Pay By Phone
Using your UK mobile, you can call our psychics via our special mobile phone service. You can choose any one of our available psychics and connect with them this way. Simply call 86666 from your mobile phone. Calls cost £1 per minute. Over 18s only. All calls are recorded.
Using your UK Landline, you can call our premium rate telephone number and pay via your phone bill. You can choose any of our available psychics and connect and speak with them directly.
You must be over 18 to use this service. Simply call 0905 232 0011. Calls cost £1 per minute plus your network access charge. All calls are recorded. Billpayer's permission is needed.