Super Moon – July 2022 Elements
On Wednesday 13th July the Super Moon is in Capricorn. It is called "The Buck Moon" because the antlers of the male deer (bucks) are in a state of full potential growth at this time.
Bucks shed and regrow their antlers each year, getting stronger as the years pass by. The Super Moon holds great magic and when we allow ourselves to shine it can create wonderful spellwork.
Let's look at the natural elements and we can use them to enhance our lives over this Super Moon!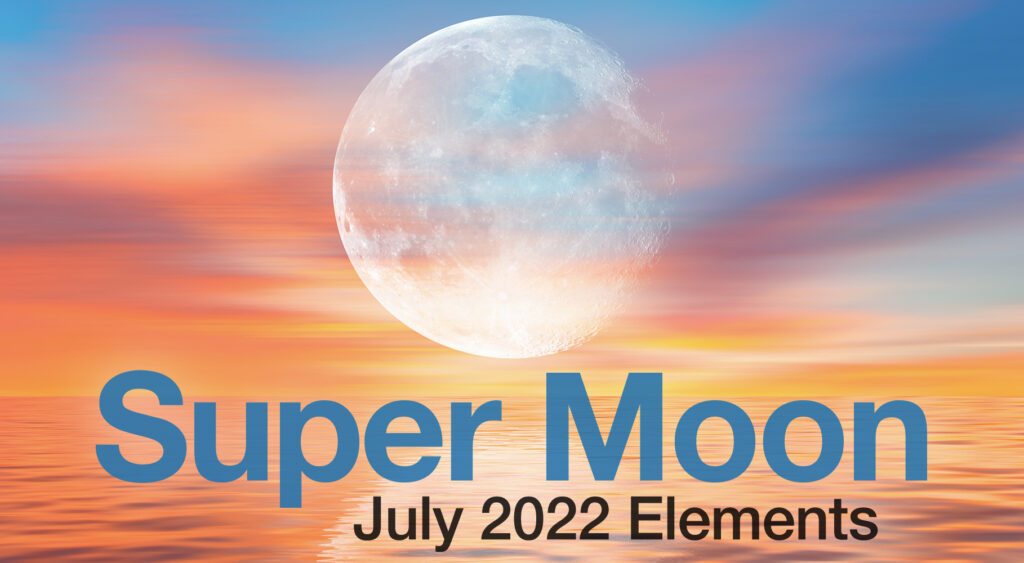 Air
Just like the Deer we have grown in our life, air releases into the atmosphere the things you have overcome, the thing you are proud of and the challenges you have faced.
Look into a reflective surface and tell yourself the achievements you have done.
Fire
Time to design the future. If you have sage, joss stick, aura spray or a selenite crystal you can create a sacred space. On a genuine (not waxed) piece of paper, draw a Silver coloured circle about the size of a teacup.
Within the circle write in any colours you choose the words of what you wish to manifest. Take care, light a candle stare into the flame reading all the words in your circle and end with "blessed be" or "so mote it be".
Next, in a safe environment (Have a jug of water close to hand) set fire to the paper. Watch it burn completely holding within your mind the gratitude for your wishes being granted. Sprinkle ash where you feel drawn to.
Water
Super Moon Bathing begins outside, admiring the moon's majestic presence. Next, run a sumptuous bath and then be surrounded by lights (take care of naked flames) and crystals.
If you own body paints or makeup write on yourself the things you wish to let go of in your world: people, emotions, self-limiting beliefs, hurts, fears & worries.
If you can, put salts and/or bubbles into the bath. Take a step into the bath, whilst holding within your mind the intent to thank the element of water.
Next, relax and allow it to wash away all that doesn't serve you. The water removes the words and the energy from your body and/or energy field. At the end of the bath take a deep breath as you step out.
Earth
When the moon is full it is at its maximum growth potential. It is time to sew the seed of intent. Either using a seed, crystal, or pebble. Bury it into the ground, as you do request a dream of yours.
It can be about relationships, career, home and many more subjects. Shoot for the moon as everything is possible. Remember whenever someone says something is impossible, reply with "I'M POSSIBLE"
"Whatever the mind can conceive and believe, it can achieve" – Napoleon Hill
Blessed Super Moon.
Indigos Oracle 
Speak with Indigo
Our very own shining star, Indigo's Oracle has an abundance of psychic knowledge and wisdom to she would love to share with you! Especially about the Full Moon!
And if you want a psychic reading? There is absolutely no better time. Psychic visions, under this Full Moon, will enhance these like no other!
Get a Psychic Reading!
Psychic Pages prides itself on bringing you the very best psychics at the lowest possible prices. We are one of the best value psychic services available. But our low prices don't mean you get any less of a reading!
We go out of our way to find you the very best trusted psychics, gifted tarot readers, top astrologers, real spiritual healers, sympathetic counsellors, life coaches and many more.
In fact, we have a dedicated psychic manager who searches for the very best. Only the very best will do for you!
Pay By Phone
Using your UK mobile, you can call our psychics via our special mobile phone service. You can choose any one of our available psychics and connect with them this way. Simply call 86666 from your mobile phone. Calls cost £1 per minute. Over 18s only. All calls are recorded.
Using your UK Landline, you can call our premium rate telephone number and pay via your phone bill. You can choose any of our available psychics and connect and speak with them directly.
You must be over 18 to use this service. Simply call 0905 232 0011. Calls cost £1 per minute plus your network access charge. All calls are recorded. Billpayer's permission is needed.